Basement Kitchens Toronto
Having a kitchen installed in a basement can increase the value of a property if homeowners intend to sell it. To make the most out of their basement space people often need expert help to get a designer and functional basement.
If you are wondering how to build, renovate and design a kitchen in your basement, rest assured that HTR Basements can help you get the best results. We provide clients in the GTA with great design projects for their basements, all tailored to their wants and needs, regardless of how limited or how wide the space is – if you want your dream project, we will make it happen.
Installing and Designing Kitchens in Your Toronto Basement
Basements offer nearly endless possibilities when it comes to adding functionality and style to your house, and a renovated basement kitchen provides homeowners with a lot of conveniences. A kitchen can be installed and designed to meet the demands of any basement project, offering property owners and potential buyers alike with extra added-value.
A full-size basement kitchen in Toronto will mimic a traditional kitchen in its design and functionality. With that in mind, HTR Basements will take care of any fire exits, ventilation, electrical work, flooring, design, and installation required for a basement kitchen in Toronto.
Our Step-by-step Kitchen Basement Renovation Process
Our renovation professionals follow a careful and thorough process in order to provide you with fast and reliable basement kitchen renovation services. Our team is passionate about craftsmanship and design, with the number one goal to give you the best renovation experience.
Step 1: Free Estimate
You can reach out to us to get a free estimate through our website or by dialing 905-754-4696. Upon first contact, we will discuss your vision, details for the project and choose the most convenient date and time to start the project.
Step 2: Zoning and Permits
You must contact any municipal or building authorities in order to be aware of any laws or restrictions when it comes to renovating a house. Our team can assist you with any zoning or permits you need.
Step 3: The Kitchen Size
To have inspiration on a budget, it is important to be aware of the size of your basement kitchen. Small kitchens can turn into kitchenettes, a beautiful one-wall kitchen or a gallery kitchen – a model in which two parallel walls with countertops have all the necessary utilities.
Medium-sized kitchens can be integrated into the living room with a peninsula design or L-shaped format. Meanwhile, bigger kitchens can be planned in the island format or in a U-shaped format – with three cabinet walls and a countertop.
Step 4: Design Ideas and Additions
Once the foundation of a basement kitchen is taken care of, homeowners can move on to the next step – the design. In this part of the process, clients are finally able to choose what type of flooring they wish to get, what marble goes well with the counters, or the colour palette they want the walls to have.
You'll need to decide on the details – pick out your flooring, appliances, light fixtures, tile, paint, cabinets, and any other specifics that you want to include in your basement kitchen.
And most importantly, ensure that your basement kitchen space is well-planned – how do you want it to look? How do you want to utilize it? With a set budget and clear goals, your expectations will remain realistic, and your kitchen will come to life according to what the rest of your basement will be used for.
Basement Kitchen Tips to Follow
Rest assured that our HTR contractors will take care of your kitchen's foundation – such as ventilation, plumbing or fire safety – and tend to all of your demands in the best way possible. On your end, there are some tips and tricks that you can follow in order for your basement kitchen to be efficient and look stunning:
Invest in light matte countertops or in a fully-white kitchen
Add marble and gold or silver detailing
Invest in urban minimalism to keep up with current design trends if you want to sell your house
Invest in a dining area
Avoid dark colours since basements don't have a lot of natural light
Install white lamps for lighting
Be aware of the space you have available to you
Our contractors can assist you with bringing your Toronto basement kitchen ideas to life in the best way possible.
Why Choose HTR Basements for Your Basement Kitchen Renovation
At HTR Basements, we deliver what we promise. Clients in the Greater Toronto Area can count on our licensed and certified contractors to do a reliable and professional basement renovation at affordable prices, with the use of state-of-the-art equipment and throughout inspections – aside from offering free 3D basement designs!
For over 10 years, our team has approached homeowners in a personal manner, providing first-hand, on-site projects and stellar customer service. Whether you're looking to create a stunning oasis you can escape to when you need a break or you just want a high-quality, durable design, HTR Basements is here for you.
And, if a client is not completely satisfied, they can rest assured that fees will be discussed with transparency – our prices are competitive, but the satisfaction of our customers is our number one priority!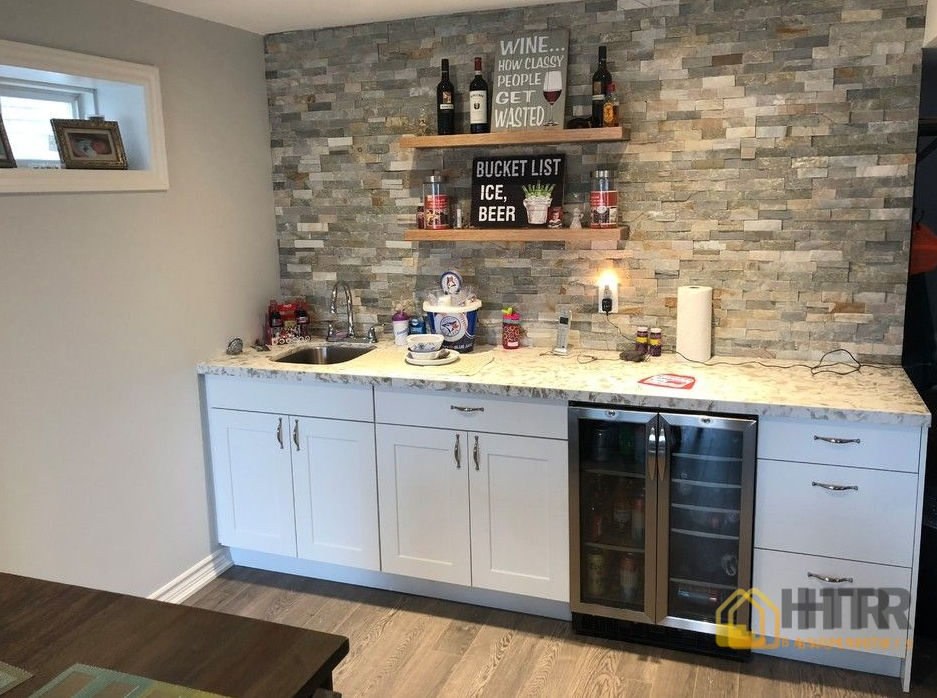 Contact HTR Basements for Your Basement Kitchen Renovation
Our working hours are from 8 AM to 6 PM, Monday through Saturday. Reach out to us at 905-754-4696 today and get a free estimate on your project!
We guarantee that our HTR contractors will answer all of your questions and fulfill all of your needs regarding your Toronto basement kitchen renovation.
FAQ
Why should I build a basement kitchen in Toronto?
Having a kitchen installed and renovated in your Toronto basement not only adds convenience to you but also increases the value of your house.
How long will the renovation project take?
The timeline of a project depends on the requirements a client has. Reach out to our HTR contractors and they will be able to estimate the best timeline and outcome for your project.
How can I prepare for my kitchen renovation project?
You can start by removing any appliances and belongings from your kitchen in order to provide contractors with as much space as possible. It is also vital to ensure that another kitchen can be used during renovation.